Zero Entry Pool Builds and Spa Construction for Palm Beach Residents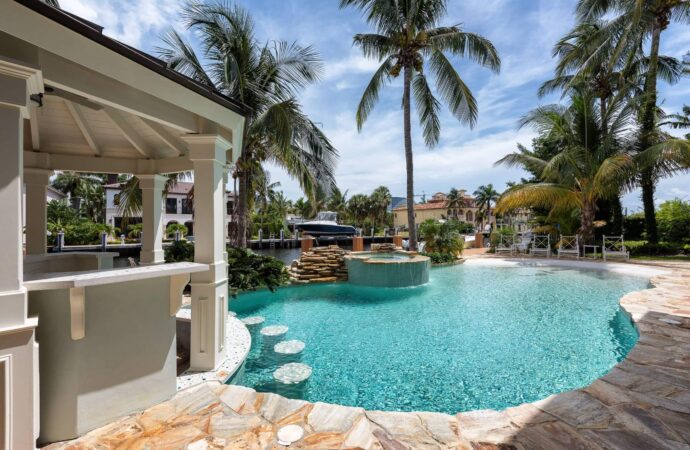 One of the common problems with pools is how deep they can get or how the entire process of entering them can be a hassle for some people that decide to use them. Also, having this kind of level section and stairs in the pool is not very practical in the short and long run. This is why zero entry pools and spas are growing in popularity in the USA. They bring a different design and more comfort when it comes to not having stairs or making it hard for disabled people or anyone to access this stunning feature. Our professionals at SoFlo Pool and Spa Builders of Palm Beach can help you build this stunning and comfortable pool for your commercial and residential property.
We don't have limits to what we can do when you allow us to work in this zero entry pool and bring all the benefits that will be a great addition to your business or only your home, where you can enjoy the day without stairs and other elements getting in your way.
If you are unfamiliar with zero entry pools and spas, the concept behind them is basic. Do you know how you don't struggle going over different stairs and obstacles just to get to the beach? This is the same. The design will allow you to enter the pool from any direction and edge, so you don't have to follow the simple path or struggle with the whole stairs and slope sections of the traditional and regular pools.
The best part about them is how the slope progressively goes down and slowly transitions from land to water, so you can reach the deepest part for a swim or stay right in the area where you can reach the tiles without problems. It is a great option for more than residential properties for its benefits.
For physiotherapy, you can have your patients go in without worrying about extra effort, or you can open the option for disabled people to go to your pool and finally have a good time without many limitations. It is inclusive and will help you even if any specific impediments don't limit you.
Is It Possible to Build It With Different Materials?
Absolutely. We know some property owners have a tendency for some materials such as vinyl or maybe gunite, but this isn't a limitation when it comes to zero entry pools. You can have them built with a wide variety of materials so the entire design adapts to what you've pictured.
If you don't believe us, a common natural pool is how you can access it as if it was a riverbank or the beach itself. They can be designed with very specific tiles and features and ensure you have a customized design and pool in place.
It is all about hiring the right people. Our team at SoFlo Pool and Spa Builders of Palm Beach is quite confident in what they can achieve as we have worked hard to improve our services and continuously grow, so the quality of our materials remains top-notch, and our builders are properly trained and qualified to take on any task and pool project.
You can go over all the materials available for the zero entry spa, and we will help you make decisions if you're having a hard time figuring out what would be better or maybe there are so many options that you feel overwhelmed and confused about what you like the most. Hence, we will bring all the support and navigate this process with you.
What Are the Benefits of Having a Zero Entry Pool?
It brings comfort and accessibility in every possible way.
As we mentioned before, it is important to have fewer stairs or none at all so all disabled people or just guests and customers can access it without hesitation, and you prevent accidents from taking place.
Of course, zero entry pools are good anywhere, and you don't have to worry about the usual structure that tends to be a hassle for many people. You can just enjoy the safety, fun, independence, and accessibility the pool offers.
With this in mind, you don't have to use lifts to enter the pool. This is one of the parts that tend to bring a lot of work to commercial property owners and the staff in hotels or specific places that need to help disabled people. It isn't a hassle, but it is better if you can allow those to be independent and enjoy their day while feeling like they can conquer the world thanks to how easy you made it for them.
Safety is top-notch as you reduce the possibilities of accidents and bring all the safe places for the edges and even the transition inside the pool.
Many other benefits can be added based on how you build the pool and the design you go for. Some people focus on having some features and amenities installed and making them as accessible as the entire pool, but this can be quite a challenge. We are, however, always able to take it and help you with every single detail.
Get Your Pool Today!
If you are up for the challenge and really want to work around this pool, allow us to help you in every single detail and process to make it real.
Our team is here to bring all the designs, materials, and options available so you can look at them and come up with a decision that should be based on your needs, goals, and preferences for the pool. If this is a commercial property where you will build it, the best is to have your clients' and guests' best interests in mind as well.
We will navigate through this, assess your property and provide an estimate that goes well with your budget so you don't have to spend more than you can actually afford.
Contact us today and get started on this project!
Below is our list of additional services: