New Pool Builds & Construction for Lake Worth Residents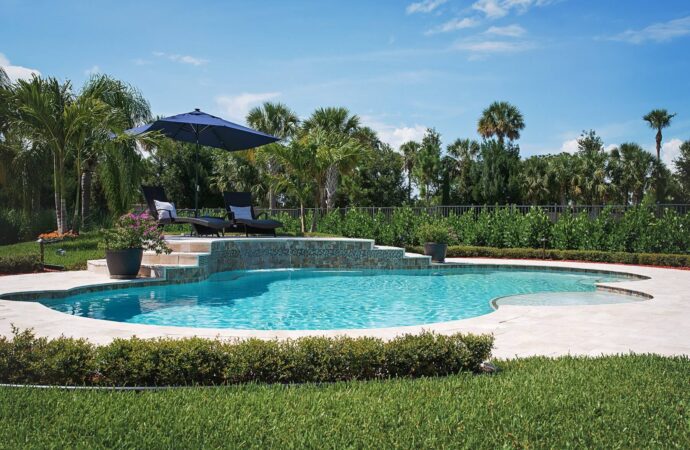 SoFlo Pool and Spa Builders of Palm Beach's team is one of the top companies in the city that can provide you with all the support you need if you wish to build a new pool in your residential or commercial property. We have over ten different options available, including lap pools, luxury pools, and spas, which are quite popular among residential owners in Lake Worth and surrounding areas.
You must know that building a pool takes a lot of time and work; even when you have capable experts working around your needs and preferences, you need to take a few hours to decide what you would like for your pool and if the design and construction before and during the process are what you have been expecting.
We know some professionals decide to take responsibility for everything when handling the design and styles. However, we believe this isn't really productive for two simple reasons:
A professional shouldn't be the one making decisions for you since they can make recommendations but not force you to decide what's best based on their eyes.

You need to be happy with the design before everything begins, so make sure you take a few minutes to consider all the options and make decisions that will satisfy you in the short and long run.
Our team will make sure everything is simple, so you don't have to leave your responsibilities aside for this, but we will follow your preferences and request and just bring some ideas to the table while handling all the hard work.
Allow us to be a supportive party involved in all the projects, but rest assured, you will be the one making all the decisions, and nothing will be done if it doesn't fit your budget or has been approved by you.
What We Offer You in the City
Besides building pools on any property, we are able to offer remodeling and renovation services for your current pool.
We know how hard it is to find capable and qualified professionals who can just go to your property, assess the pool, and come up with an idea based on your request and needs that will fit your vision so far and satisfy you in every possible way.
Remodeling can be tougher or more challenging than even building a new pool, and the reason is simple: you have to deal with the current pool and work around how to remove it or bring a new style and design around it.
Renovations take a lot of work, but we are ready to take on this challenge, so you get the most out of your investment and have a chance to get the final design that you have always wanted.
Remodeling or renovations are usually needed after you've had your pool for a while and need a change, or maybe you just got a new property with a pool that could get some help. Whatever it is, we will be there for you and either work in an existing pool or build you a new one.
Below is our list of additional services: