Indoor Pool Builds and Spa Construction for Palm Beach Residents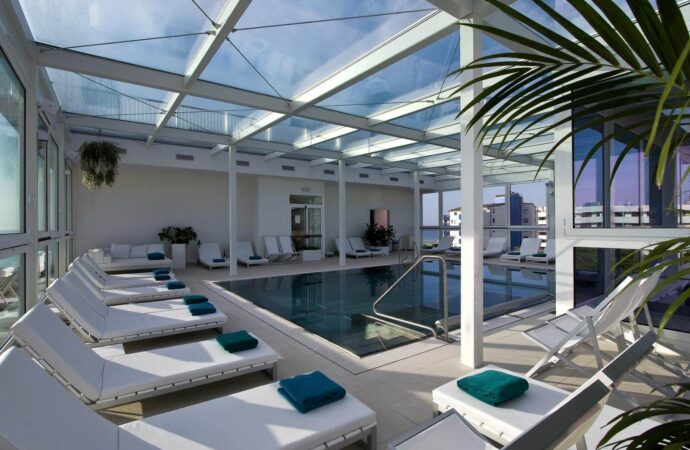 Building a pool in your backyard may feel like a challenge, and it is. However, when you think about building one for your indoors, this is when things really get ugly quickly if you don't have qualified professionals that can help with the design and proper construction and ensure the final result will meet your needs and preferences around this feature. SoFlo Pool and Spa Builders of Palm Beach is here to help you with indoor pools and spas so you can have the perfect pool in your residential or commercial property.
We have been building pools for over 28 years, and indoor ones aren't really new for our swimming pool builders who, in fact, love working with the indoor option as it brings a new challenge they will gladly take and make sure brings a stunning and durable result to the property.
Indoor pools and spas can be difficult to design and build because you have to consider the structure and special location based on your property's distribution and how it may affect the rest of the space. For example, some commercial properties have pools installed in different areas of their indoor space. It is common, for example, to find one that is right on top of a room, or maybe the pool is right on the last floor, waiting for all guests in a hotel to go and enjoy their time in it.
In other areas, you can find indoor pools as part of the property as a way to offer the guests, visitors, or clients a space to relax and actually bring a different feature everyone can enjoy. We know some people question what indoor pools can be used besides when you don't have enough space in your outdoor space, but it can all be about preference.
Many of our clients have wanted an indoor pool and spa as a way to be able to enjoy it all year and avoid having to deal with excessive sun or the regular problems of having the pool outdoors. Also, it can be more comfortable to use for other guests and visitors if you have a pool 24/7 that can be used anytime and without any restrictions regarding weather conditions in particular.
Although Palm Beach is one of the cities with incredible weather, rains and some natural disasters or storms aren't rare, and having the pool outdoors can bring several problems in the short and long run. Meanwhile, you can also consider it a way to complement your indoors and bring a unique amenity to your space.
Can Indoor Pools Be Built Anywhere?
Ideally, you should consider if building a pool indoors is good for the entire interior design and structure of your pool. Otherwise, you will end up having it in a space that could have been used for other purposes, or maybe the pool just takes up too much space.
Unlike outdoor living spaces, indoor pools require more thought and consideration since regretting the decision will cost you more time and resources. Besides, it can affect the property if professionals aren't careful during the construction and installation.
Our team has learned that the best way to work with pools is having a good idea of what is going to be next to it—the room or section—and under or above it if it is in a building or vertical structure. You don't want to build a pool above a kitchen, for instance. You want to make sure the distribution is appropriate and that your property allows for a full design that won't affect the rest in the short and long term.
If you are working on this project and thinking about installing it in a house, this tends to be easier since it is usually up to your preference regarding where you want to install it. We have met some clients who wanted it right next to the living room as a way to connect it with a water feature, and although the design is strange, it brings a great result if the rest of the indoors blend well with the pool.
However, with our experience and the number of indoor pools and spas we have built, we can say that working with a space that is closer to the outdoors or separated from the regular spaces is better so you can have several features and amenities installed with the indoor pool.
Of course, having one of these pools is also possible when you just want to enclose the space and make it part of the interiors of the property itself. There is a fine line in how you consider this outdoors or indoors, and we will help you define it when reviewing your project and looking for the result you want.
How Much Is an Indoor Pool & Spa?
The price is what can limit certain people. Unlike outdoor or traditional pools, these ones can cost between $42.000 and $199.000. you will need to invest more per square foot due to the amount of work it takes dealing with the interiors of the property and making sure the structure won't be affected.
Also, materials for indoor pools tend to be more expensive because although you can use regular fiberglass, vinyl, or other options, you want to include finishes that blend well with your property and interior design and that will offer non-slippery surfaces that will remain clean and are easy to maintain in the long run.
Many variables need to be considered, and building one of the pools and spas involves working with lounging areas and adding all the appliances, furniture, fixtures, and features you want and need.
We will make sure you have it all and stick to your budget since our team at SoFlo Pool and Space Builders of Palm Beach makes sure to work around your needs and how it is possible to design an indoor pool for your home or business.
We will assess the space, determine the best outcome, and how much it will cost depending on what you choose for the design and style.
Below is our list of additional services: