Infinity Pool Builds and Spa Construction for Palm Beach Residents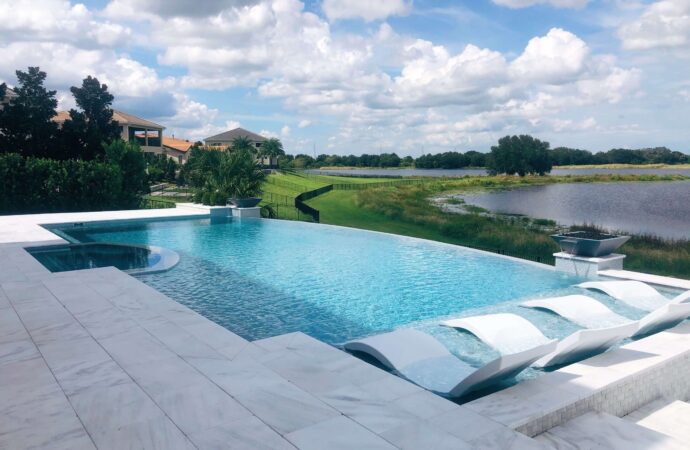 One thing that worries most people when considering infinity pools and spas is how much water is wasted. However, this is a huge misconception as there is no water wasted during this process since the beauty behind this optical illusion for your pool design lies in how the water remains in a cycle, so it continues to spill over, and you can save time and resources in it, making it eco-friendly in several aspects. SoFlo Pool and Spa Builders of Palm Beach is well aware of this since our team has been working with their construction and design for a while, and we can promise you will get specific and unique results when having us as your builders.
With over 28 years of experience in the pool construction industry, infinity pools are part of the modern designs that have been integrated into the list of possibilities over the last ten years. They aren't that new, but they sure grew in popularity back in 2012 when hotels and commercial buildings started having them as the main feature.
However, if you wish for one of these pools, you will need to think about how much work you will need to pour into it and how our contractors can help you throughout the process.
First, we want you to know some facts about infinity pools and spas that will allow you to make a well-informed decision about whether this type of modern pool is for you or not:
The design is complex, which means you cannot expect it to be finished or completed in only a few weeks. Although the idea of the infinity pool doesn't rely on just letting water go to waste, creating the optical illusion will be hard depending on your property's space and how you want the design around it to look like.

It can be quite expensive since modern pools overall tend to be pricy due to all the latest technologies and systems required, along with the materials that need to be added to the regular list of things to use for the construction.

Although infinity pools are minimalist, they can cost more than your usual traditional pools due to the among of work it takes to get a smooth and neat surface and design all over the property's space.

You will have a calm and perpetual flow with the water, which must be considered if you aren't in love with the sound while using the pool.
What Does It Take to Have This Pool & Spa Built?
Since they are quite popular today, you will find great deals among contractors and professionals, so you don't have to worry about high prices within the actual range of building this pool and how much it costs, but you do need to be prepared to invest a bit more than usual.
If you want the pool to be installed in an area that isn't exactly elevated but rather plain, you will need to have our team create a specific effect and add some features that can make the pool be built in a bit of an elevated area. Otherwise, the fall with the water and the optical illusion cannot be achieved.
This is why most of the infinity pools you will find are built-in buildings or specific elevated and cliff areas that allow for a similar effect of a waterfall in the structure and saves time and resources when you don't need to work around the creation of the elevation alone.
This isn't all. You need to get the right materials and design to ensure the final result will bring beauty and aesthetics beyond the infinity illusion it creates. Otherwise, you will have a plain pool, which isn't the goal when you have a minimalist pool installed in your space.
With this in mind, is an infinity pool what you want and need? Honestly, if you like it and have the budget for it, we highly recommend getting one for your space since this is one of the current designs and types of pools you can't go wrong with.
As we use the latest materials and equip our builders with the tools they need, you won't have problems getting the specific design for the pool, but you must be open to some adjustments if you expect it to look stunning and also last for many years.
Additionally, infinity pools and spas may require quite the maintenance, at least if you want the water to remain clean and bring the waterfall effect you expect. You only need to pay attention to the pumps and how the feature performs in the short and long run.
How Long Does It Take to Build Infinity Pools & Spas?
It takes about 10 to 12 weeks. As we mentioned before, these pools are complex, and you will need to be patient with the construction, especially if you have a flat space that needs to be adapted and modified to a certain extent to have the desired elevation for the infinity illusion to be achieved.
Our team will do its best to reduce the time it takes to build this pool for you, but we will need to know everything about the property and work around the space you have.
Although you are requesting a specific type of pool, every design and project is customized, as there is no manual to follow every single time a new pool must be built. This is why we encourage you to contact us and schedule a visit with our team.
While we assess your property's dimensions and space, we will make sure to establish the timeframe and let you know how much it will cost along with all the details and expenses so you can have a stunning result and know why it must be done the way we mention.
Of course, the estimate can be adapted to your budget, requirements, needs, and preferences. Let us know what you want or would like before and during the project.
Below is our list of additional services: