Natural Pool Build and Spa Construction for Palm Beach Residents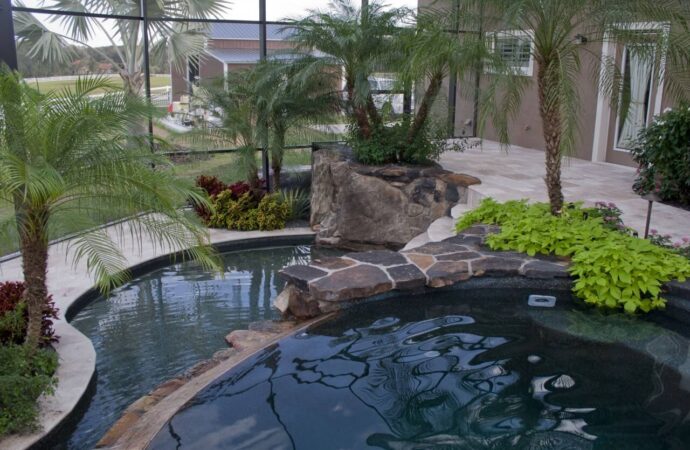 Natural pools and spas haven't been that popular in the USA until recently when residential property owners, in particular, noticed how eco-friendly they are, how much time and money they can save when maintaining them without sacrificing aesthetics, and how amazing the entire pool area looks. However, you will need qualified natural pool builders if you wish to have this feature on your property, be it commercial or residential. For over 17 years, we have been building pools at SoFlo Pool and Spa Builders of Palm Beach. The natural option is one of our favorites, and we always encourage owners with enough space to bet on it for a unique design.
Florida is part of the few states in the United States that can benefit from having natural pools and spas, and it is because of the weather and how amazing it is to have pools in your backyard or outdoor living space. You get to enjoy it all year round and bring different features and amenities to your guests and clients in case it is built in a commercial property.
Now, what makes natural pools so special and unique from the rest? The design and the ecological part blend well with any outdoor living space. You are able to create a natural environment or ambiance that will allow you to have more plants and keep nature closer while also limiting the among of time you have to invest in the pool and its maintenance.
In addition, you can include several amenities and features that will complete the entire look and make the whole natural look unique and perfect. Waterfalls, rocks, plants, and similar features and fixtures nature-related tend to be added, and they look beyond amazing thanks to how our team handles the project and brings the best your way.
But while knowing all this, you should also keep in mind that working with natural pools is not as easy as it looks. There are many ways to make the entire pool look like it is just part of a forest, river, or any other natural area, and you will have to choose the right design if you want to get a specific result.
Our team will help you choose the materials, features, amenities, and additions and ensure you get a specific style and design that goes well with the entire outdoor living space and that won't feel outdated once a few years have passed. Also, the idea is to reduce the time and the amount of money you invest in it. Thus, even when you have some additional elements, and this pool tends to bring more commodities and features, we will ensure you have more control over what you must invest in in the short and long run.
We Support Your Design, Planning & Installation
Before you ask, working with a regular pool and then a natural pool is not the same. Besides imitating how natural it looks as if you were in an actual outdoor space in a green area, it is how the water and every element will be changed.
The water in the pool will be filtered and cleaned thanks to a system and pump used that will treat the water and allow you to have water free of any chemicals. This is often one of the main options in Florida nowadays due to how it is possible to allow kids and any adults in the space without worrying about chlorine or other chemicals used to treat the water.
We all know chemicals aren't only expensive but quite unhealthy if you look at them in another light. It is crucial to maintain the pool as safely as possible, and natural pools and spas offer this option when they are installed properly.
Our goal is to ensure this pool is perfect for recreation and allows anyone to swim without worries. You won't have to spend a fortune and can relax quite a lot by standing under the waterfall we include or other amenities and features we will help you build along with the pool itself.
This is why natural pools are considered eco-friendly since, besides avoiding chemicals, the water can be filtered several times and cleaned with the best living systems that will ensure no bacteria is present in the water feature.
The only disadvantage in all this is that it can make the entire construction a bit more expensive due to all the additions that will help with its performance, like pumps, extra filters, some surface skimmers, and more.
They are not entirely necessary but can help a lot in the long run while guaranteeing that you get the most out of your investment.
How Is a Natural Pool Built? & How Much Will It Cost?
Since it is built over a liner, you will have the chance to have the pool installed regardless of the state or shape of your surface. Why? Because the liner will separate the soil from the water, and besides decreasing contamination, it will make the surface a bit more even and allow you to connect the regular surface with the pool entrance or another space.
However, this needs to be done properly, or the final result will end up bringing several repairs and a lot of maintenance.
That being said, the cost is what always varies depending on the square feet that must be covered and the entire size of the final result. The price increases naturally if you want amenities, recreational features, and more.
The average price can hit over the $55.000 mark, but it can be lower if the size of your pool isn't that large and if you don't want to increase several features or amenities. The way how the pool needs to be built based on the surface will also increase or reduce the final cost.
After assessing your property and considering the different options, designs, requests, preferences, and needs, everything needs to be determined. This is why we will need to schedule a visit and offer you an estimate of the cost!
Below is our list of additional services: