Luxury Pool Builds and Spa Construction for Palm Beach Residents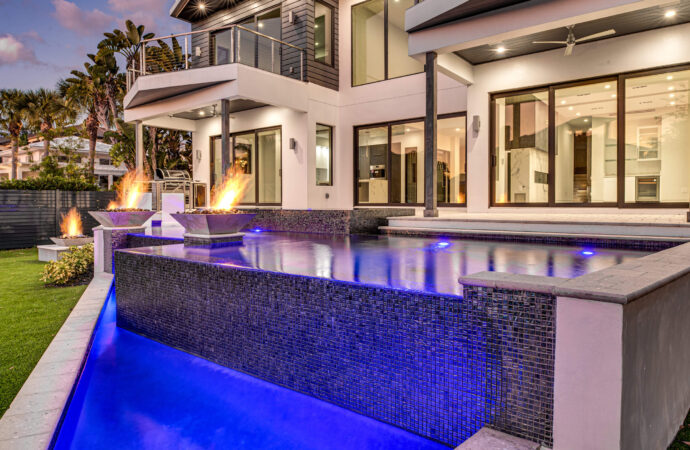 Luxury pools and spas are quite popular not only because of how they look but also due to the structure and value they bring to any property. It is all about having the perfect design and working around customization that will go according to how you envision the feature in your property and how you believe the house or commercial property will benefit from the pool itself. SoFlo Pool and Spa Builders of Palm Beach helps you throughout the process and makes sure you can build luxury custom pools and spas without any issues.
Our goal is to bring customized designs that will be exactly what you want, and you will be able to enjoy them for a long time as we focus on durability and longevity in this process. If you have a specific dream and idea for your luxury pool, we will work hard to make it real as long as your space and budget allow us to do so.
Our company has helped property owners for over 28 years with their needs, and we wanted to be there to continuously bring great pools and spas they can enjoy and add to their properties without worrying about quality and durability. We know that pools are quite a big investment since you have to compromise several thousand, especially if the goal is to build a luxury pool with all the features, lighting, and elements that characterize it.
This is why we want your investment to be worthwhile and that you don't have to worry about recurring expenses around it continuously. Otherwise, you won't be able to enjoy a pool but rather have a hole that is always eating your money away and bringing all the problems, which could be avoided as long as you have our qualified experts in charge of the task.
How Do We Help You with Your Luxury Pool?
Saying that we have supported you since the very beginning isn't an exaggeration. We will focus on the pre-planning for the project and structure and make sure we add all the features and elements you want for the pool.
It is always important to work on the design, planning, and entire idea of the project, so you don't have issues with how the system is going to work. It is important to have a great plan in place if you want to have a result that will meet your expectations or even go beyond them.
This is why our team will be there for every single step and ensure you have everything on point and clear. For this, we need to work around your requests, preferences, and needs. It is impossible to build a pool without these considerations, but we also know some clients don't have a clear idea of what they would like to have for the luxury pool and spa. In this case, our experts and builders will be more involved in how the design will be and will bring more recommendations and ideas for you to choose from or have some inspiration so you can come up with different designs and additions.
Besides the design of the pool itself, like the actual structure where the water will be, you can include extra features that will work as amenities or additions that will make the entire outdoor living experience much more enjoyable.
Fie pits, waterfalls, rain arcs, LED Lighting, rockwork, and more, are only a few of the features you can include and will bring your property all the beauty you want and need.
Once the design is finished, we will wait for your approval since a brief design is provided during the estimation time—the free quote you receive once we assess your property—and then a polished plan is delivered so you can be happy about every detail and remove or add more things as needed and wanted.
Finally, we begin the process of building the pool and bringing all the elements together so you can start enjoying your pool in no time and within a deadline or timeframe that we help you establish around your needs and budget.
Why Should You Have a Luxury Pool?
It isn't only about a luxury pool; the simple fact that you consider adding a pool to your space will bring extra value to your property and increase its selling price in the market as long as the pool is well-built and you take care of it properly.
In the case of a luxury pool and spa, this only amplifies in terms of how much you will get from the pool and how much you will be able to add to your property's value, and all the experience you will have in it.
When considering the luxury option, the amenities and extra features are what will bring the full experience when owning this type of pool since you are enabling a swimming space and the option for more experiences with waterfalls or maybe a similar pool that will take you to how a resort tends to feel like.
You can have a stunning backyard, and it is even possible to install this pool indoors with the help of our experienced contractors at SoFlo Pool and Spa Builders of Palm Beach. We will work hard to add features that just keep adding value and that you can also enjoy in this process.
Audio, lighting, waterfalls, deck jets, and much more. We will bring a list of options so you can decide what you would like and why, and we will work from there, so there aren't any issues in the process.
When working on this project with our team, keep in mind we have four specific materials you can choose for your luxury pool: travertine, flagstone, marble, and limestone. They are all durable, elegant, and long-lasting and will make the pool an actual luxury once you see what every corner looks like.
You get the most out of your investment, and we make sure you enjoy all the benefits and bring the perfect pool to your property.
Below is our list of additional services: