New Pool Construction Services for Palm Beach Residents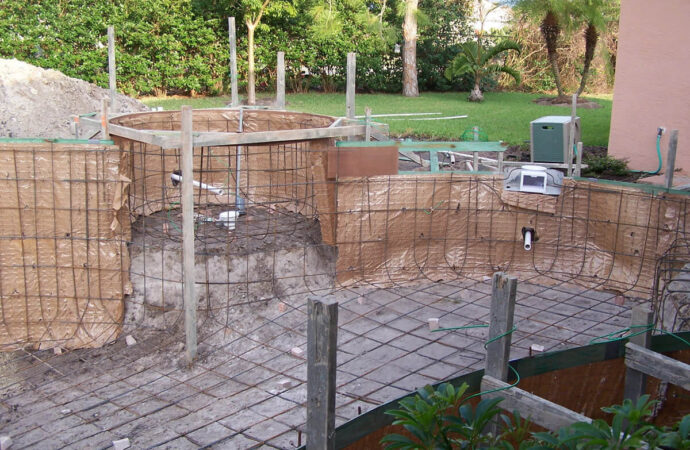 If this is your first time dealing with a pool, but you have wanted it for a long time, the first thing to worry about is whom you are going to hire for this project. At SoFlo Pool and Spa Builders of Palm Beach, we can help you with new pool construction and bring all the options available to the table so you can make a decision based on the following:
What you like.

Your needs and what needs to be covered in your space.

Your budget.

The design you have always wanted or the style you want to achieve in this project.
We will help you make decisions starting with the simple fact of knowing what would be best for your pool. You see, some people will think that if they have enough space or a large property, they can have any type of pool built, and that would be totally fine. However, if you stop for a bit and consider your needs and ideas, you will learn that you cannot just choose any. You need to think about how you will use it, if it is suitable for the amount of traffic or the volume, to be more specific, and if you will want to make some additions in the future.
There is a lot to consider in this process, and this is right where we start our support in this entire process. We want to make sure you don't have to struggle with the ideas since we will introduce you to the different options, show you examples, explain one would be better than the other while we still consider your budget and preferences, and bring a design and estimate that follows the rules and requirements in this project.
Now, if you have a specific type or design in mind, we would love to support you with the design, planning, and construction without delays.
We know many residential and commercial property owners already have a clear idea of what they want and how much they will need for it. In those cases, our job begins with assessing your property, taking all dimensions, and making sure that your project and ideas are possible in the space you have available.
Rest assured, we will consider every detail and work around what is possible or not. Of course, although we will come up with recommendations even when you have a clear idea, you have the last word, and we will proceed as needed and requested based on the freedom you give us for the project as well.
What Pools Can We Build for You?
This is the most common question in our company; for starters, the answer would be: quite many.
We have been building the usual residential pools that consist of saltwater pools, family recreational pools, and lap pools. Still, we have also added more alternatives to our list of services, so all homeowners have a wide variety to choose from.
Natural pools and zero-entry pools are quite popular among people in Palm Beach due to their affordability and how you can get a natural style and design when you have qualified contractors and builders like us at SoFlo Pool and Spa Builders of Palm Beach.
The spa addition is mostly part of the entire process of building a new pool as it is a feature that can be integrated into any part of the pool with enough space and as requested. It is most likely to be needed if you have commercial purposes behind the pool and its construction. As requested, we can also work around the structure based on pools and spas.
There is a lot to consider, and when it comes to commercial pools and spas, we have modern options such as infinity pools and spas, architectural pools, and the usual luxury pools you can find in hotels or quite extravagant areas for guests and clients.
In the end, the type of pool you choose will depend a lot on your needs and what you are trying to achieve. If you have a residential purpose, we will help you consider the different options and come up with a decision that works best for you.
On the other hand, commercial pools are a bit different since you have to consider what you like, need, and what others would like to have in a pool since this feature or structure is usually the center of attention or the highlight in your commercial property.
For this, we will come up with different trends and show you how they have evolved over the years so you can have a pool that is perfect for the time it is being built and the future trends and what people prefer.
More importantly, we will make sure that regardless of the pool you choose from our list and services, you get a durable and long-lasting result that won't be a hole eating your money with repairs and maintenance.
How Much Is a New Pool?
Pools are quite the investment regardless of which one you choose. However, if we focus on the standards, the usual price can range between $20.000 to $55.000.
Luxury pools and infinity pools and spas tend to be more expensive due to all the appliances, design, features, and how much work it takes to build them. In terms of a plunge pool, the price can be surprisingly a bit higher than you would expect due to how much work it takes to fit everything in a small space.
In our company, we will make sure that the pool will fit your budget or work around it, so you don't have to give up on the idea of having a new pool construction project performed on your property.
We will find a pool that is perfect based on your aesthetic standards, the design you want, and what you can pay. Make sure to contact our team, schedule a visit for your free quote, and provide as many details as you can while you call, email, or visit us for the information and estimate.
Below is our list of additional services: