Architectural Pool Builds and Spa Construction for Palm Beach Residents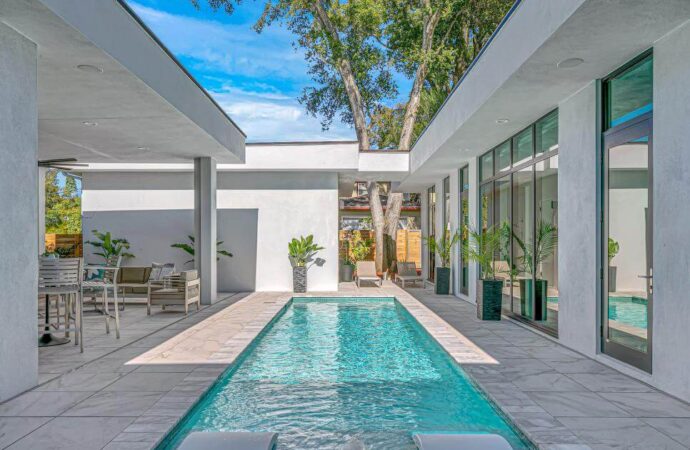 Among all the designs for pools, architectural pools and spas tend to be a favorite among residential and commercial property owners due to the clean, neat, functional, and beautiful design left behind when the construction is finished. We know best as our company SoFlo Pool and Spa Builders of Palm Beach, has been helping in their construction for over a decade, and we know quite well what it takes to have a breathtaking and long-lasting result. All in one, so you don't have to worry about functionality and aesthetics.
The goal of offering architectural pools in the city is to have a design that is suitable for any home or commercial property. After all, more traditional designs tend to feel old or ugly after a while. You may have a stunning look, but people tend to dislike it at some point when it is too much or when they have been there several times. This includes you in your own backyard, trying to enjoy the sight of your pool area.
Architectural designs are difficult to get tired of, and the best part is that the design is so clean that you shouldn't worry much about the maintenance and future repairs that may be needed due to the regular smooth surface and materials used for the slopes, stairs, features, and fixtures.
Now, the question is: what makes a pool and spa be categorized or considered as architectural?
Usually, the design and the entire structure that is not like your regular pool with many colors and simple laps or concrete everywhere.
You can design an architectural pool in many ways, which is part of the beauty of choosing this type and design for your outdoor living space. You can have a regular rectangular pool, a square-shaped one, or maybe be a bit bolder and go for the geometric pool design many residential owners love today. In contrast, commercial property owners want to impress their clients and guests with a different style.
Why Should You Get an Architectural Pool & Spa?
If you don't like the usual style of having your pool be like a disruption or independent feature in your outdoor space, you will definitely love this option.
Part of the benefits of having an architectural design lies in integrating the pool into the landscape and outdoor living design you have for your property. It won't feel like it is a simple addition. Instead, you will have a full design that blends well with the surroundings, and you don't usually have to change everything in your outdoor space if you are working on the construction of the pool after you have had an old one or maybe you already worked on the rest of the design of your outdoors.
Of course, this is possible as long as qualified builders know what needs to be done, so the entire structure isn't an eyesore nor affects the aesthetics of the pool. Otherwise, you would have to work around a full remodeling or replacement project, and this is exactly what you want to avoid at this point.
On the one hand, you will have a stunning and minimalist design, and on the other hand, you will have a clean and geometric design with straight lines, which is perfect if this is the style you're going for. If not, you still don't have to discard the option.
Modern swimming pools can be built in different ways, and certain features can be added based on what you want to achieve for your pool and entire space. Our team of pool builders will guide you through this process by:
Offering details and information about all the designs you can opt for.

Help you make decisions around what's best for your space and what you would like to have as well.

Ensure you don't go over your budget so you can still have a stunning and clean design.

Help you create a customized design even when the idea of an architectural pool and spa is present.
How to Handle the Installation Process
Ideally, you want to take your time to go over it. Otherwise, you will feel overwhelmed and won't invest enough time in all the options available, leading to an issue when trying to decide what's better, what you like the most, and what you can afford.
This is why we mentioned the previous part of the process: offering details and information about all the designs—and this includes materials, styles, colors, textures, and more—you can opt for when working on your architectural pool. From there, we will guide you in how creating a wish list can help you make decisions faster and won't compromise the final result you want to get.
But if you want a piece of advice that can help you with this entire process and more, that would be to keep it simple.
Minimalism doesn't need to mean boring, but it doesn't have to be extra simple in terms of just choosing a color and texture. There is a fine line in what you should add to an architectural pool and spa, but what we mean with "simple" in specific is how you should try to let the structure and design of the pool itself be the main characters and highlights of the entire structure. Otherwise, you will have a lot going on and a design that makes no sense.
When you add to the process the goal of adding some stairs, hot tubs, or additional features, think carefully about how this can affect the final result and your use of the pool and what you will be offering to your guests and clients.
Our team will be here to help you in every step, so you don't have to feel completely overwhelmed. Allow us to guide you and recommend some designs and principles around architectural pools themselves. How minimalism, geometry, and the cohesive pool surroundings are the elements, you want to focus on.
Contact us to get our full support, a free assessment, and a quote, and get started with the project.
Below is our list of additional services: