Custom Pool Builds and Spa Construction for Palm Beach Residents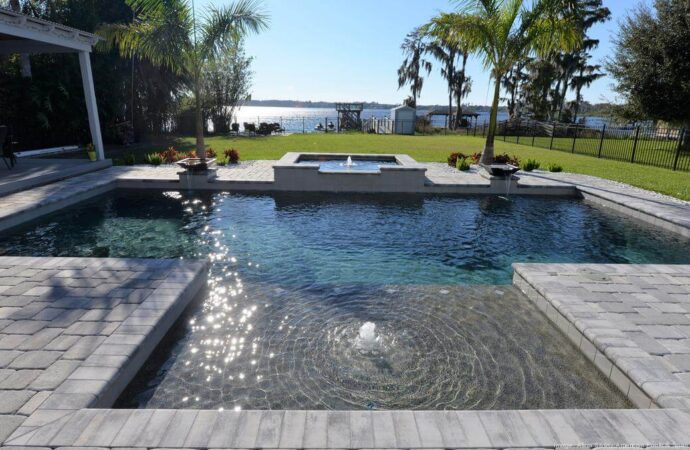 When you look at a catalog for pools, you don't always like what you see, or maybe you just feel they are too repetitive and not unique at all, which is fair to think when you are looking for something that is your taste and helps you get an outdoor living space you've always dreamt of. Custom pools and spas are a great option if you want something unique and want to build your own custom pool that won't be like any other, and you can add the features that will make it your own. SoFlo Pool and Spa of Palm Beach is always here to serve you and make sure that our contractors and builders take all the steps needed to build your customized pool.
The custom pools and spas we can build for you can be either in commercial properties or in residential ones as long as you are aware of the dimensions or entire space and understand that we will need to adapt to what is available to give you a clean result.
The beauty of a custom design and work lies in how you can choose every single detail and material of your pool. For some property owners, this may be a lot of work that they don't want to tackle or go for, but it pays off if you wish to have something unique you know you won't get tired of nor will see in another property.
The idea is to work on the design and foundations you want. The materials, edges, surface, and every corner needs to be handled carefully. Of course, we will use some examples so you can choose some features and similar styles you like to use as references, and then we will move on to the selection of multiple materials and colors so you can choose among all the options available, including gunite, fiberglass, vinyl, and more.
All this process includes having our team working on the design and planning, which means you won't be left alone with all the options since we understand this can be overwhelming, and the idea here is to make sure you don't have to struggle with the entire process. Instead, we want to make it simple and easy to go over as long as our team brings all the options together, provides information and details about each, and works around your needs.
The idea of having a custom pool design and construction is that you can have exactly what you need after all, and we are here to make it happen while also keeping in mind these variables:
Durability.

Longevity.

Aesthetics.

Functionality.

Accessibility.

Safety.

Comfort.
We Do More than Custom Pools
Since most people are familiar with pools and the traditional or general design, this doesn't usually need clarifications. However, we know some details are needed when it comes to the spas and hot tubs that can be added as needed.
Along with pools and the custom design for spas, it is possible to bring more features such as a hydro-massage or maybe focus on a warm space or area in the design where you can relax and have a comfortable spa for everyone or yourself.
The design needs to fit the pool in general and also bring a different feeling when people decide to use it over the general and common features. Our builders will determine this, and they will help you decide what's the best option, where it should be placed, and how.
Keep in mind that if you which for a spa in general and not a pool, some variations need to be considered. Several variables enter the game and project as they allow for a wider selection but also limitations in how the space should be designed.
Regardless of what it ends up being, SoFlo Pool and Spa Builders of Palm Beach is able to offer you a wide variety of designs and high-quality construction processes and designs that will make you happy in every single aspect and guarantee that you don't need to worry about frequent repairs and more maintenance than you should focus on when your pool or spa is built.
How Our Custom Design & Construction Work
We will need to assess your property and determine all the dimensions so we can proceed with the design and planning phase. Although some property owners want us to give them an estimate without a proper visit and assessment, we would rather visit the space and then provide you with it. Of course, we understand limitations and the fact that some people require an estimate before they even compromise on a visit. However, for this, we will need many details if you want a quote that will be actually close to the final price:
Property's dimensions.

The design you would like.

Any materials and preferences.

Your budget.

Where is your property located?

Is it commercial or residential?
There is a lot to cover, and even when you give us all the details, we won't know if it requires extra work due to some problems or details in your property. We are open to both ways to provide an estimate, but a visit you can schedule with our team will always be the best.
As for the rest, we will begin the design process and make sure you are actively involved in everything. It is all about making you happy and ensuring the design is to your liking. Otherwise, it wouldn't even be a custom design you can enjoy and relax with at all.
From there, we will bring the final cost and design, list all the materials and steps, and make sure you get a stunning result once we start working on the construction.
Contact us today to get started with your custom pool and spa, and allow us to be the ones bringing the most stunning design—and a durable and long-lasting one—to your commercial and residential space.
Below is our list of additional services: