Family Recreational Pool Builds and Spa Construction for Palm Beach Residents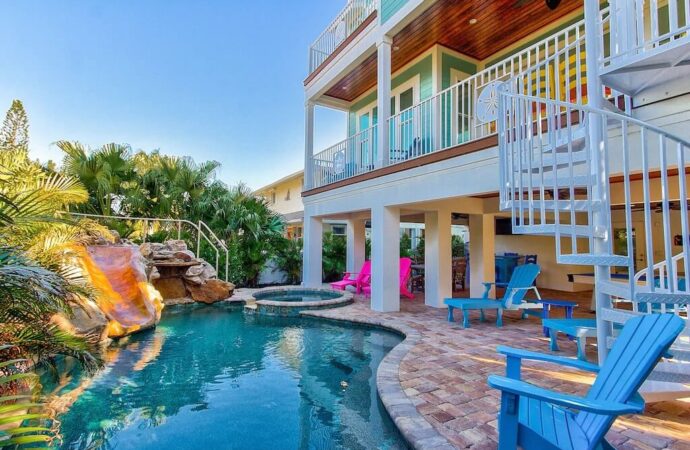 SoFlo Pool and Spa Builders of Palm Beach loves helping families bring a new feature and space to recreate to their backyards, thanks to our experience, designs, and the service we can deliver based on what you want to include in your family recreational pools and spas. We know there are several options, and we want you to take it easy, so you don't feel overwhelmed with all the options available. We will make sure you have a final swimming pool young and old people can enjoy equally.
The idea of a family recreational pool is to have more than the pool itself. Yes, you do have fun with the simple feature, but it can be a bit boring, and you, sometimes, just want to add more amenities and features that invite and instate more fun and exercise in the process.
The question is: what amenities and features can be installed and added to the design to the point of bringing a different result to the pool alone in your backyard?
If you allow our contractors with over 28 years of experience to work in your pool and bring a unique design, you will be able to enjoy more than regular bathing and playing in the water. How? By adding more options and features available, and before we just jump to the actual design, we will introduce you to them and ensure you are aware of each option you have available.
Most families choose to include a slide in the pool along with a waterfall, which creates the perfect blend of a great outdoor space that everyone can enjoy without feeling threatened due to the height or depth of the feature and pool, respectively.
But before you worry about the features and additions, you actually have to think about the design and the size of the pool you will need for your family; this is why we will introduce you to a couple of options you must consider.
Large Family Pools
The idea is to build a pool large enough for over six different members being able to fit in it and play without restrictions. The pool should be able to hold over eight people in total and be built with dimensions of around 18 feet by 38 feet. The idea is to choose the type of pool based on the number of people using it, along with the amenities and extra features.
Small Family Pools
They are usually around 16 feet by 32 feet and will bring a more reduced space yet perfect if your property isn't that large or if you don't require all the extra space in the pool itself.
Smaller Pools
These are even more limited in size since they go from 14 feet to 25 feet. They are perfect for about four people or five and will meet simple needs.
Lap Pools
They are always meant to be swimming pools instead of having an entire recreational spaces built with different features. It is often used by athletes or people who want to stay in shape.
Olympic Size Pools
This custom pool needs to be built around the athletic requirements and the dimensions you need for the entire practice and training sessions.
We Can Use Different Materials
Not all pools are made with the same materials or by using the same tools. Certain designs and styles can be made with multiple materials that will make them look different depending on the final style you want to achieve.
In our case, we love working with gunite, fiberglass, and vinyl, since those are the most durable options in the market that offer great results at affordable prices, so the entire cost of the pool can be reduced and more affordable for your bank account.
Gunite is the most popular option due to the different shapes that can be created with it. It is possible to have a very defined framework and have a mixture of different elements, such as sand and concrete, making the finishes and surroundings of the pool unique and different from the regular.
It is also a good option if you do plan to add some recreational features such as rocks, waterfalls, slides, and more. This is because it allows us to bring better customization, and we won't have to struggle to try to fit the materials and make sure they last without one affecting the other.
In the case of fiberglass, you get more of a traditional pool that will offer an option to heat the water better as a spa, and you can add fiber optic lights, making sure the entire space remains lit up, and you don't have problems creating a stunning ambiance and setting the mood at night.
Finally, vinyl is quite durable and affordable among the options. You can have a very flexible surface that will reduce the potential cracks and repairs you will need to handle later on, and rest assured you have multiple designs available while using it alone.
Of course, you don't have to stick to those options only. We can customize the entire family recreational pool and spa, and we will help you bring all the features you need and elements as well, including the materials that you would rather use for the pool in your residential property and backyard.
How to Get Your Free Estimate
All it takes is a call or email, and our team will get back to you in no time with the information you requested while providing us with some details and facts about your property.
Keep in mind we will need to schedule a visit so we can see your space, assess it, know the property's dimensions, and how we can tackle this entire process so you get the best result and a durable one your family and you will be able to use with restrictions and for a very long time.
Get in touch with the team and have us working in your pool and spa in no time and based on your needs and requests.
Below is our list of additional services: