New Pool Builds & Construction for Riviera Beach Residents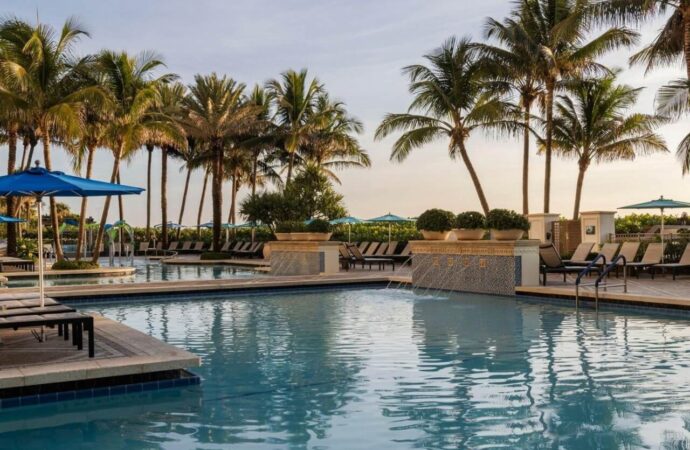 At SoFlo Pool and Spa Builders of Palm Beach, we care about you, your ambitions, preferences, and needs. We don't want you to have a general pool on your property, nor do we believe that you have to adapt to specific designs and recommendations. The idea of hiring experts and contractors in Riviera Beach is to make sure they can help you with every aspect of pool construction or even renovations and remodeling, and this must include the entire process of choosing materials, colors, designs, and more.
Many professionals have since ignored this and only come with a list of types of pools available and how you can choose around the different designs. This isn't wrong, but it isn't entirely right, either. Although photos and examples help you make decisions and know how you want your pool, it is crucial to customize several parts and ensure you are happy with every detail while also covering all your needs.
For this, we need to know your property and its dimensions, learn about you, what you want, and if you have any specific needs, you want to cover with this feature from now on.
While we are at this, we want you to know that our team is able to help you regardless of the property you own or if you would like us to build the pool on the land, we will be happy to do so. It doesn't matter what final type of pool you decide to go for.
Our goal is to make sure you are happy with the final result in terms of aesthetics, but we also worry about durability and longevity in all this. Some professionals seem to forget it, but there is no point in delivering a beautiful result unless you can guarantee that its durability and longevity will be at their peak. Otherwise, it is bound to crumble and force the client or owner to go over renovations and remodeling when this should be done after several years if there is even something they want to change.
Therefore, as a client, you need to worry about what the actual professional is delivering, but with us, you won't have to completely worry about the entire result and how it will perform in the short and long term since we will make sure it is clean, neat, durable, and long-lasting and just perfect in every single aspect.
Feel free to contact us and have our pool builders work around your request and project. We have a wide variety of services we can deliver based on the pool you want, or if you are trying to get some guidance and access consulting services that can help you to get the perfect pool for your space.
Some of our top services in Riviera Beach include:
Infinity Pools and Spas.

Luxury Pools and Spas.

Indoor Pools and Spas.

Zero Entry Pools and Spas.

Natural Pools and Spas.

Architectural Pools and Spas.
And much more based on your needs and if you have any special requests for our team.
Below is our list of additional services: