Modern Pool Builds and Spa Construction for Palm Beach Residents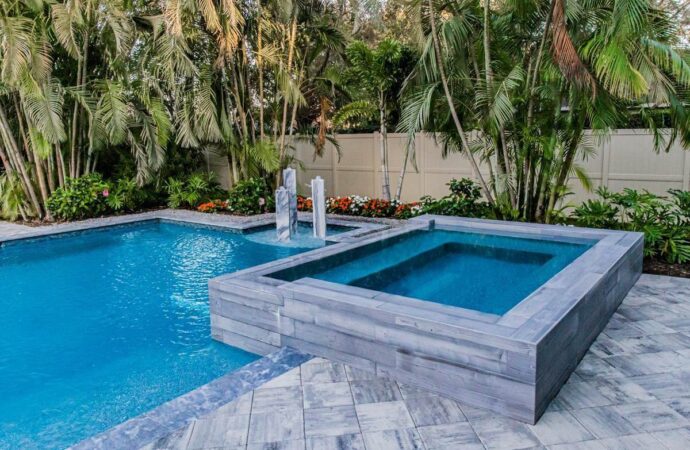 When you think about a pool nowadays, you really admire all the infinity, architectural and luxury pools you can find in hotels, mansions, or specific properties. They are stunning, and no one can deny this. The issue is that to achieve this result and make sure you don't regret having it due to their maintenance; you will need qualified builders for either your residential or commercial project. SoFlo Pool and Spa Builders of Palm Beach can help you in every step and dream regarding your modern pools and spas for either residential or commercial properties.
We have been building them for over ten years, and remember that when it comes to modern pools and designs, trends and times influence what you will find. Right now, and for the last decade, everything has been about infinity pools or luxury ones. Still, when you consider the designs and styles, you will notice it is all about customization in several parts of the project.
This is why you will need to think about the specific lines, textures, colors, and aesthetics you want for the pool in order to get a result that will satisfy you. Otherwise, you will end up with a design that is far from what you need and expect, and it will cost you more time and resources in the long run.
Our professionals will ensure everything is clean, durable, and long-lasting and that you can see your custom modern pool and space with new eyes while enjoying it for a long time. Our goal, after all, is to build a pool that will meet the idea of modern you have and want, but we need to make sure it lasts so you don't have to go over this whole process again.
For over 28 years, we have been building modern pools and spas for residents and businesses in the city and surrounding areas, so allow us to be there for you regardless of what you want and need for your property.
Large and small projects aren't problems, and you will have a stunning design with a sleek, stunning feel once we finish.
What Makes Modern Pools Different?
The usual geometric shapes and clean lines are what tends to make you recognize modern pools wherever you go. They are quite known for their aesthetic appearance due to all the features and simple designs, yet unique and elegant ones you can recognize in any pool area with one of those designs.
The key to achieving such good and neat results is using materials that will give you a smooth surface and add some features like mosaic tile flooring or maybe going for stone-like designs with the waterfalls and additional flat areas that usually connect with the deck and make you have close to a natural or zero entry pool.
It would be minimalist if we had to describe modern pools in one word.
You don't need much to get a stunning design. Since there aren't as many details as with other designs, such as natural pools or family recreational pools, you get to save time and effort in maintaining the feature and ensuring repairs aren't usually needed.
Now, when it comes to the technical part and all the systems involved in building the pool, the quality doesn't and shouldn't change compared to others installed in different types of pools. They should be of the best quality to guarantee longevity, but the difference with the modern ones is that innovation needs to be brought in if you want to avoid having tubes or pipes showing since the design of any modern pool is known for something specific: how neat they are.
It is not common to notice the appliances and areas where the functional installations are placed, and you can often get a result that will be aesthetical in every single corner. This requires technological innovations and the latest industry options, making modern building pools a challenge for any professional in the area.
Our goal is to make sure you don't have to struggle, and once you go over all the designs and options available, we will work around your budget and needs, so you have a modern pool and spa with all the additions you want, built in your backyard or space.
What Can You Request for Your Modern Pool?
If you are thinking about a specific design like an architectural or a luxury pool, you will have some limitations due to how they need to be designed and built to get the desired result. But if you just want to follow a shape or example among the ones we have for you or one you have seen before, it will be a bit easier, thanks to how the modern pool design can be customized.
That being said, there are a few characteristics and elements that make modern pools be kind of identical to what you need to add:
Either if it is an infinity, luxury, or architectural pool, it ends up having a rectangular shape in most cases since it fits well with the contemporary look that goes well with the entire modern concept.

Minimal designs, which is what we mentioned briefly about minimalism and how simple the style is as a result. The décor will be limited, and the number of features and amenities tends to be reduced, but this is also part of the design and what you want to do.

You can use different tiles and finishes to ensure the pool has either a pattern or a clean design that is aesthetically pleasing to look at.

You get sun shelves that allow you to relax inside the pool while you get your dose of vitamin E during the respective hours.
You can request this and more, and we will make sure you get the final result you wish for. Allow us to know which design you have in mind and how we can help you with this entire process.
Below is our list of additional services: