Saltwater Pool Builds and Spa Construction for Palm Beach Residents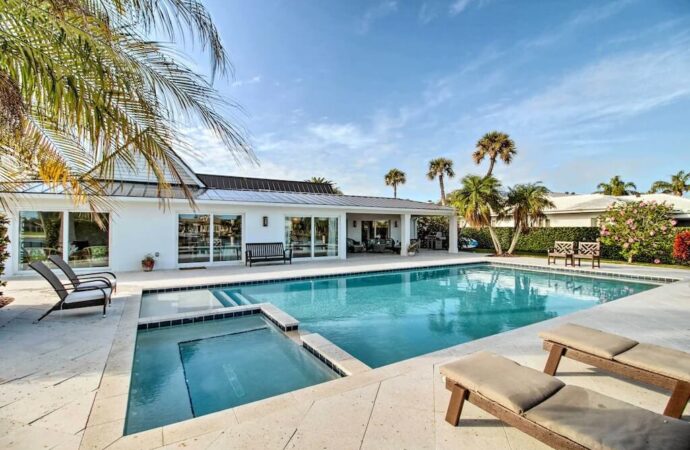 Dealing with chlorine and other chemicals to ensure your pool performs well and is always clean and sanitized can be expensive and, in many cases, unhealthy. We get it when some property owners don't want to deal with pools just because they would have to worry about all the chemicals and the maintenance. It takes a lot of work, and you cannot neglect it unless you want the pool to become a swamp. SoFlo Pool and Spa Builders of Palm Beach recommends building and relying on saltwater pools and spas if you want to get a pool that is easy to maintain and won't make you deal with all the chlorine you hate.
You can swim, play, and enjoy your time in it worry-free, and we assure you it will be relaxing to have the experience of this feature plus the effects of having saltwater in the space to float and get some extra exercise done if this is what you love about pools and the opportunity they bring.
Saltwater pools don't have to change in designs and styles, which means you have a wide variety of options when it comes to the materials you can choose, the designs, colors, and textures available to ensure you get a stunning result. What changes are the filtration system and all the flow technology that needs to be installed so the pool can run saltwater properly and treat it to the point of guaranteeing it is sanitized and clean? This is why saltwater pools need to be customized and requested individually instead of going for a general service of building a new pool.
The structure needs to be well-thought and designed. Otherwise, you will have pipes and systems that will fail to maintain the water clean and will bring more responsibilities and tasks during maintenance that you will have to handle manually, adding more time and money you have to invest in your pool.
Our team will make sure to design a custom saltwater pool you can enjoy all day long without any complications and old systems. We only use the latest technology and ensure you can spend as much time as you want in the water.
What Is So Great About Saltwater Pools & Spas?
Again, probably the chemical-free maintenance. You won't have to use any of the regular chemicals, including chlorine, to make sure the water is treated properly and allow others to enter the pool. Instead, you will rely on the salt in the water, which will be an agent that cleanses the water alone, and the system and pumps installed to make the water flow and be processed will make sure that all the molecules are cleaned naturally.
You do have to keep an eye on the maintenance and how sanitized the water is, but it shouldn't be an issue as long as the saltwater in your pool is the perfect one and is properly maintained with the pumps and all the filtration systems.
When mentioning other benefits, we can list a few common ones:
You get to enjoy the experience even more: we all know that swimming on a beach can be more enjoyable due to how you can float easily and feel clean after exiting because, although there's sand, you aren't dealing with the chemicals nor have to worry about how long you stay with the water in your body.

It is even healthier: you won't be dealing with water treated with chemicals, which reduces the chances of absorbing all the components and having to wash yourself every single time. High-quality saltwater is from the ocean as well, and you will be able to diminish osmosis while using this option. You don't have to worry about allergies or kids getting the water in their lungs, either.

It is more affordable: not only in the short term while you are building and installing the pool but also when it involves maintenance. You don't have to worry about extra equipment and systems to cleanse the water with chemicals, reducing the number of features needed to make your pool perfect and enjoyable. And, as mentioned earlier, no chemicals = less maintenance and money spent on them.
The Best Benefit? It Is Cheaper
As we mentioned before, it is more affordable, but we want to dive deeper into this so you can have a good idea of how much you will spend in the pool as well.
You see, part of the expenses and money go to the chemicals used to treat the water and ensure the entire system to sanitize it with the chemicals is operating well. This can take a lot of work and money due to how much you need to care for the pipes and connections, so they don't deteriorate and continuously cleanse the water.
However, with salt water, you only need to install a filtration system that will do the deed thanks to the salt in the water. You get rid of all these elements since the beginning and are able to invest more in the aesthetical and structural parts of the pool.
Thanks to all this, you can get a saltwater pool for as low as $11.000, and the maximum tends to hit the $40.000 mark, but this is considered low if we follow that the last one involves a large pool with several features and amenities installed, while a regular and traditional pool would cost double or even more.
Finally, you get to customize your saltwater pool without limitations in the design and style you can go for, so rest assured this is a great option for those who want a healthier, safer, and more affordable option in their backyards.
SoFlo Pool and Spa Builders of Palm Beach will help you design the structure and pool and bring every single detail to life so you have a new feature you can enjoy all day with your loved ones or invite your guests and clients to jump in and have a great experience worry-free.
Below is our list of additional services: