Residential Pool Build Services for Palm Beach Homes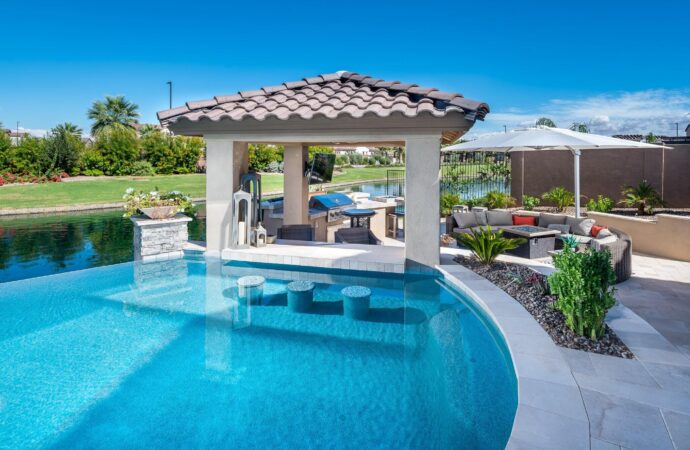 If you want to boost your property's value or maybe just have a new feature you can enjoy in your backyard, you will need to consider different designs and types of pools you can build, and the one you choose should not only be perfect in terms of aesthetics and style but also durability, longevity, what is the best for your space, and what you can afford. From there, you begin the process of designing and planning the project. At SoFlo Pool and Spa Builders of Palm Beach, our goal is to help you during this process with our residential pool builds service, which will help you make decisions, design the pool, and have qualified builders working on the project and bringing everything together.
We want to make sure you don't struggle in this process. Although it is known for being challenging and not easy at all, it doesn't have to be a nightmare either. It is about knowing what to do, being serious about what you need, and considering all options based on what you like but also what you need.
Our role is to be every piece of support you need. We know it is hard to review all types of residential pools, work on the materials and colors to be used, the specific design you want, plan the entire project, and deal with all the processes of building the pool and having experts in your backyard for several weeks.
The point is to make this less stressful than it is and ensure you can somehow enjoy the process aside from all the difficulties it brings for your residential property.
Our team has over 28 years of experience, and we are confident we can achieve a stunning and durable result regardless of the type of pool you choose or if you go over all the materials available. It doesn't matter since we worry about using only top-quality materials and tools in this process since this is what helps us guarantee the best result from the very beginning.
What Is the Idea of Having a Residential Pool?
Having the opportunity of having an oasis in your house starts right with the construction of a pool in your backyard or the space you have available for it. Otherwise, you will always be missing a feature that can bring everyone together and allow you to enjoy the time you spend in your outdoor living space.
However, you must know that working in a residential pool building is about finding the perfect design so you can have a feature that, besides bringing a new place to relax, actually enhances your outdoor beauty and can provide more activities and experiences.
There are many reasons to work in new construction, but we know some homeowners hesitate due to how much work and time it can take. This is when we come and allow you to get a great result.
Our role is to transform your entire space and ensure you have an inground dream pool that can be enjoyed by you and everyone you invite to the space. Also, this residential service isn't only meant for a house. You can contact us if you have a condo or residential building where you need and want to build a new pool for everyone or as part of the building's design.
We will make sure to bring all the amenities and features and help you choose among them and the colors, materials, and textures based on the type of pool you choose.
Is It a Good Idea to Have a Pool?
If you can afford it in the short and long run, it is always a good idea to add it so you can make your property more valuable or just add some beauty and features to the space.
Now, if you are wondering due to a regular pool's size, you don't have to worry about this. There is a wide variety of types and designs, meaning you can build a pool of different sizes nowadays, and our qualified and experienced contractors will make sure the result is outstanding and meets all your needs and preferences.
What we will need you to do is to consider the different options available so we can help you make a design, create the plan, and finally start working around the construction itself:
Zero entry pools and spas: these are amazing since you can just access the pool from any side, edge, and space. There slopes and surface of the pool will be even and transition by getting deeper as you continue to go to the middle of the pool.

Plunge pools and spas: they are perfect if you have limited space and a tight budget.

Natural pool and spa: we love working with this design to imitate a natural water source that goes well with any backyard where nature is a priority.

Saltwater pool and spa: we allow you to build this type of pool to save time and money on chemicals like the standard chlorine and get a pool that doesn't require that much maintenance, and you can use it without worries.

Family recreational pool and spa: besides the regular structure, we will add some amenities and features so kids can play, you can go over some activities, and everyone will have fun besides just being inside the pool.

Lap pools: these are perfect if you want to stay in shape, have some space left after the construction, and get a firm and stable structure.
We will guide you through this process and make sure you get all the information that will allow you to make a well-informed decision.
We Can Just Customize Your Pool
If you have an idea that doesn't fit any of the types available or maybe mixes several of them, remember we can just customize the design and bring a new pool to your residential space. You will love what we can create for you, and the price and details will always be included in the free estimate.
Contact us for more information, and allow us to help you in every step.
Below is our list of additional services: