Plunge Pool Builds and Spa Construction for Palm Beach Residents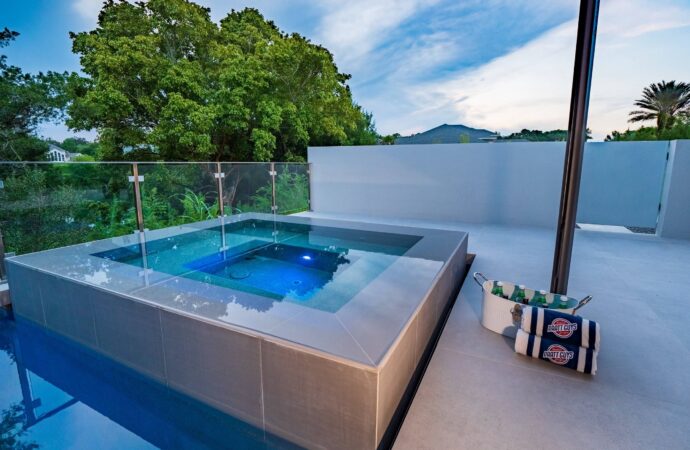 If you have limited space in your residential or commercial property, you don't have to give up on the idea of having a pool designed and built for your property. It is all about choosing the right option in the industry and working with our qualified contractors at SoFlo Pool and Spa Builders of Palm Beach. We will help you find the best option and plan the entire project so you can have the best pools that go well with the space you have available. For limited areas, plunge pools and spas are always the recommendations we have because they are:
Affordable.

Durable.

Long-lasting.

Quite easy to maintain and take care of.

Fit well in reduced areas where you can't rely on traditional pools.

Cozy if you are trying to get a different design than usual.

You can save a great percentage of your backyard or space if you don't want to have the pool taking over.
However, designing those pools can be a challenge for many professionals in the city since it is important to keep the entire process in check while you progress and know the dimensions of the space you are working with. Otherwise, it is quite to mess up the installation and know how much space you're living available for future features or just be able to spend more time in different parts and corners of the pool.
The beauty of plunge pools is how versatile they are. Yes, they will be placed in a single area, but you can even bet on indoor designs and constructions thanks to how small they are, yet they will feel comfortable and take more than two people in with the right design and features distributed and added.
To guarantee that you have a pool that meets your needs, you need to work on the customization and around the resources, materials, and time that must be used for the entire process. If not, it is quite common to have a design that follows a regular standard, but it isn't quite what you expected for your pool and entire design.
What Is the Beauty Of Plunge Pools?
The answer lies in what they are specifically.
Although they can be described as small, deep, and compact, it is about the comfort and versatility they offer. If you have a traditional pool in your backyard, you know the slopes and edges tend to take some space and will be kind of a new addition to the maintenance you must provide. However, plunge pools are a bit more limited due to how you must work with the design and entire space. Otherwise, you will end up with a pool that is poor in details and designs.
It is meant to be small and compact, but it should still feel like you have more space than you think when it is installed. For this, it is crucial to work on how deep it is and the additions inside the pool itself. For example, if adding stairs would be a good idea, or if it would be better to try and connect the edges and surface with the small plunge pool, just like a zero entry pool would be.
From there, you can start thinking about the additions and features you want to add, such as the cooling down system, the lounging area, wading, and more. You can also have extra fixtures and amenities based on the surrounding space and the dimensions available.
What makes these pools a challenge is how you have to focus on being aesthetically pleasing and seamlessly blending with the entire space and concrete or deck while also considering the materials you are using, the space available, and how you want to tackle the full design.
We will need to go over your preferences, needs, budget, and what you expect from the pool itself so you can have the dream pool in your space. Otherwise, you will end up with an eyesore that will be taking the little space you have available for your regular activities and some quality time with you, your family, or loved ones.
This is why we will make sure to go over all the options and features you can consider along with the specific design of the pool: jets, how to get some water features, the various forms in the ages, and the structure and shape it takes.
Will You Sacrifice Depth for Its Size?
Not really. Although plunge pools limit you in terms of how you can make the transition of the levels and how deep the pool gets, it is possible to work with the right one as long as you have a clear idea of how deep you want it to be. In fact, depth and volume are two of the custom options available that you won't have to give up on.
If you decide to go for a plunge pool that integrates to the concrete or floor alone like a natural pool or the zero entry options, you will be able to see the transition and achieve a great result in case you want to allow disabled people, those who don't know how to swim or maybe work around a plunge pool that allows you to relax and rest without worries.
We will make sure that the design is clean, the area is more than wide and large enough, and that you stick to your budget with the different options and possibilities we bring and create for you.
How to Get Your Plunge Pool Build by Our Team
SoFlo Pool and Space Builders of Palm Beach is here to support you in every step and make sure you get the ultimate design for your pool.
We will bring all the benefits for you: low maintenance, low impact exercise, increase your home or property value and install a system to control the temperature and work around what you need or others need as requested or intended.
To have our team working on this, make sure to call or email us, schedule a visit so we can assess the space, and wait for the quote—which is free—to arrive in a matter of hours or a day at most, which you will need to approve of having our team start the project.
Below is our list of additional services: