Pool Remodeling and Renovation Services for Palm Beach Residents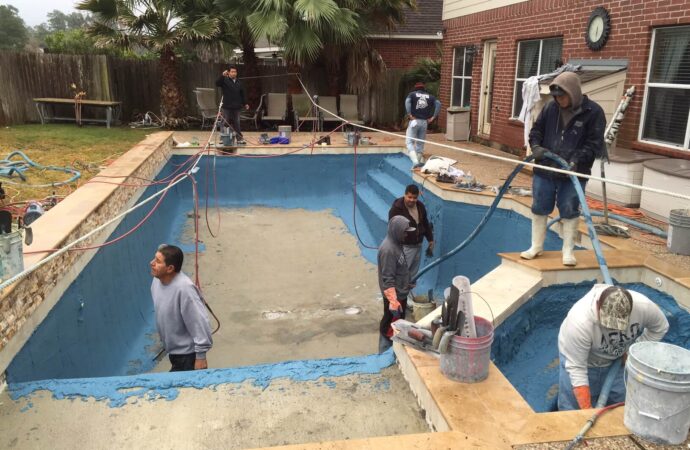 Sometimes, your pool will be built and make you happy, but this doesn't have to be for a lifetime. Many pool owners get tired of the same look, or maybe they want to add something different, change a thing or two, or just bring an entirely new style to the space. Whatever the reason is or regardless of what they want, having qualified contractors and professionals in pool remodeling and renovations will be essential. Otherwise, as you are part of those needing the service or looking for a change, you will end up spending more time and resources. We at SoFlo Pool and Spa of Palm Beach will make sure you have the best experts working on your remodeling and renovation project.
If you aren't sure what you can change or not in your pool, it is quite simple if you give it a thought or two.
First, most people aim for pool deck resurfacing since the entire deck is just like the pool: it is the highlight of the space since it is where people spend time as well. This is why it can make a big difference working on resurfacing the deck alone and even leaving the pool as it is, but you can also work in it at the same time if you wish to change tiles, install a new finish, or maybe work on changing the colors.
The options are almost limitless and what you do ends up being more biased than actually thought through. What does this mean? In the case of residential pool owners, you can always go for the new surface you like, maybe add some features and amenities, or maybe work around small changes and renovations. The good part about being a residential owner is that you don't have to worry about what others may think—unless you have other family members influencing the process, which is normal.
In the case of commercial pool owners, things turn out to be a bit more complicated, and renovating the entire pool can prove to be a challenge since you have to consider your commercial property's style and design and make sure the pool will continue to be appealing to your clients and guests or being to be if this is the reason for renovation and remodeling.
However, our role in this latter case is to go over what you need and what they expect from the entire renovation. In other words, you will have our entire support, so you don't have to struggle continuously in this process.
With this in mind, you can rest assured our team will be there to support you through the decision-making and every aspect of deciding what would be better for your new project and the entire remodeling of the pool or just a small change to bring a new ambiance and aesthetics to the place.
How Much Can We Do For You?
If you are wondering, based on the different designs, surfaces, and elements available, you just need to think about what would be better for the vision and style you have in mind. For this, we bring different examples and samples so you can see with your own eyes how it will look and have a good idea of what to expect when it turns out to be your pool with all the different changes, additions, and more.
We know this sounds like a lot of work, but this is exactly what we do for you: handle all the information, put it together, assess your space, determine what you need and want, and work from there, so the time you invest in this project is reduced greatly.
We want you to know that time usually is needed even if you don't have much available. Nevertheless, it is a good idea to have your ideas in order and go over the different options we bring your way. We won't push you, but we will make the decision-making process easier and more straightforward.
What if you have a very clear idea of the type of pool you want, which leads to an even clearer idea of the renovations and remodeling needed? Then, we will support you to make it happen.
You have the last word in everything, and we will make sure that you don't regret some decisions, features, amenities, or elements you decide to add during this project. Just make sure to share your concerns, let us know how we can help, and we will be there to bring the rest.
How Much Do Pool Remodeling & Renovations Cost?
It depends on the remodeling and renovations requested.
If we focus on pool deck resurfacing and changing other large or big elements in the space, prices can start at $3.000 and go up.
Usually, concrete or brick pavers for your new surface tend to be the most expensive options for resurfacing. However, other options such as spray deck, eurotile, or even kool decking are quite affordable and bring stunning results.
We would be more worried about the pool coping and other elements that tend to be influenced by the quality of the materials and how the entire installation or job is handled. Our goal is to ensure you don't spend a fortune getting the result you want, and based on what you want or need for your remodeling process; we will come up with different ideas.
Just to make it clear, you can establish a budget, and we will do our best to stick to it and even make you spend less than you expect when it is possible. Since some renovations cost less than resurfacing, you don't always have to think about spending $3.000 to $9.000 for this option.
We will help you bring different details and amenities so you have a good result in your space and everyone can enjoy the pool, either if it is for a residential or commercial property. What we want to make clear is that you will need to discuss all changes with us before and during the project.
For estimates, we will assess your space and see the pool's condition so we can help you with all the issues and have a quote that is close to the actual final price of how much work this will take and how much needs to be spent.
Below is our list of additional services: