Lap Pool Construction Services for Palm Beach Residents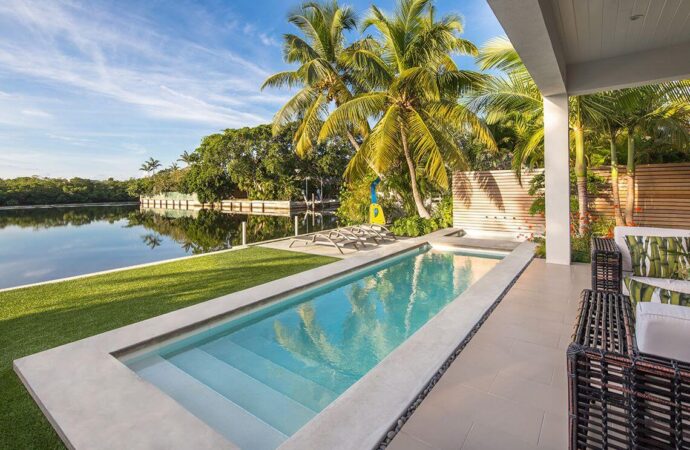 There is always a purpose for a pool, and most people tend to just focus on one that involves having fun and just installing a new feature that allows them to bring all the experience to their backyards so the owners, guests, loved ones, and anyone allowed to use it can have a good time. However, some options in the industry, such as lap pools, can be used for a simple yet crucial purpose: to stay in shape. SoFlo Pool and Spa Builders of Palm Beach has helped many property owners build their lap pools so they can enjoy the day while swimming for a few laps, spend some time training and staying fit, and just use the pool as part of their entertainment and enjoyment.
These pools indeed have a specific use, but you don't have to feel limited if you like their design and how they are built. It is all about finding the perfect materials, bringing a specific structure, and working around what you actually like about it in terms of aesthetics and functionality.
Many property owners have taken the chance to install this pool instead of the traditional one as a way to motivate themselves to do some exercise while taking a quick dive into their pools. In our experience and personal opinion, we do believe they can be perfect if you don't have much space yet want to have an additional element that allows you to relax and invites you to exercise, all at the same time or when you need it.
Our team will help you through the process and ensure you can have your lap pool built without any delays and with all the elements you appreciate and like in a pool. We will bring everything together and make sure you don't have to go over the design and installation again or ensure this lasts for a very long time with little maintenance and few repairs but only those needed due to continuous use.
Are Lap Pools Meant for Recreational Purposes Only?
As we mentioned, you can use the pool for several purposes, and it is all about perspective. We have met several owners who found it quite suitable for the space they had, so they decided it would be a nice idea to include it in their backyards or indoor spaces.
Plunge pools and spas would usually be a good idea when the space is limited or reduced, but it is fair if you would rather have a vertical pool that maximizes the specific dimensions of the area.
Going back to the question, it isn't meant for recreational purposes only, but it is indeed the main reason behind the installation since people use them as a means to exercise and stay fit when they can't go to other pools, training facilities, or maybe just want to have the extra in their homes.
Business owners can benefit from installing one or more and offer the use of the installations to athletes or anyone who loves going for a swim. They are more affordable than traditional pools, and you get a lot of ROI if you use them for commercial purposes and your clients or visitors.
What Makes Lap Pools Different in Structure?
Definitely their length. You will notice their length is what actually makes people attracted to them, and it makes sense considering they are meant for laps. So, if you are looking for a square or more proportional pool in terms of dimensions and size, you will need to consider another option.
Now, besides the specific length and how it is built, you can have different edges and work around resting areas at each end, so this will make its use more comfortable.
In terms of design and the other elements that make it possible, you will need to consider the specific type, materials, and features you want for it and are possible to install based on the space and the entire style you are trying to achieve.
When it comes to types, you actually have only two: in-ground and aboveground. The design is different, along with how each must be built if you want to get the best design and work around a pool that will last and resist all types of activities in its deck while using it for either staying in shape or spending some of your free time.
For materials, you have a wide variety to choose from:
Vinyl, fiberglass, and concrete.

You can choose different edges and cope.

Colors and textures can be according to the final material you choose for the internal walls and surface.
We will help you make decisions around your preferences and make sure you don't have to spend more than what you can afford, but you won't have to worry about the materials' quality either since we only use top options in the market.
How to Request Your Lap Pool
You can call or email our team, and we will be happy to provide you with an estimate based on the information you share with us and how we can help you build the pool of your dreams.
However, the best way to get a quote from our team is to schedule an assessment at the best time, and we will work on taking all the dimensions and ensuring we know your space well to determine how much work the entire project will take.
From there, we will give you an estimate based on the design you wish for and all the materials to be used for the project. You will need to let us know if you have a rough idea of what you want, or we will bring some examples so you can look at some designs for your lap pool.
The estimate will be based on the final customization and how we will build your lap pool in either a residential or commercial property and ensure everyone is happy, starting with you and your loved ones or anyone involved in the process.
Below is our list of additional services: